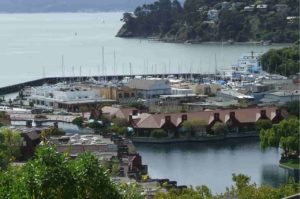 We want our children to roam free and enjoy the liberties we had as kids, whether it's biking around the block or walking to school. But in many cities, these simple luxuries are a thing of the past.
Rising crime has engulfed our neighborhoods, and the construction of looming gray office blocks has swallowed up our public spaces. Studies have shown that our formative years will have a resounding impact on our success later in life, that without safety and security, quality schooling, and access to well-maintained outdoor spaces, our children will be hamstrung in their future endeavors.
Fortunately, these towns and cities provide all of that, and more, without breaking the bank:
1. Alhambra, CA
Situated just a few miles from downtown L.A., vintage homes and quaint quiet roads characterize this former suburb of the bustling city. But it's not just the area's year-round sunny climate, pristine parks, and quick commute to one of the highest-paying job markets in the country attracting new families to Alhambra; the town's 13 public schools have each received Title I Academic Achievement awards, according to Livability.com.
2. Lafayette, LA
There's much to savor in Lafayette, whether it's eating out at a local Cajun restaurant or traveling back in time at one of the city's living history parks. And in this part of the world, these luxuries won't break the bank.
According to Payscale.com, the cost of living in Lafayette is 2% below the national average. Not only will utilities, healthcare, and groceries cost you less than most places in the U.S., but as residents of the city, you and your family will have free access to the Lafayette Science Museum and Children's Museum of Acadiana.
A University Of Arkansas study found that regular trips to art museums (and museums in general) not only give children a greater appreciation for art but also lead to increased levels of empathy, critical thinking, and tolerance.
3. Holly Springs, GA
Perched on the I-575, this former railway settlement has become one of the most sought-after destinations for new families in the U.S. Why? Almost 0% of families with a child aged under 5 are living in poverty. In terms of crime rates and education levels, Holly Springs has certainly earned its spot on this list with quality schools, amenities, and policing.
4. Sheridan, WY
Come for the great outdoors and stay for the close-knit and supportive community. If you're hoping to escape from the hustle and bustle of big city living while still having access to top schools and all the creature comforts of the urban jungle, consider moving to Sheridan.
According to GreatSchools.com, the area is home to some of the best schools in the state, with the site awarding the town's schools an average of 9/10. Plus, the cost of living in Sheridan is 1% less than the national average, according to Areavibes.com.
5. Sarasota, FL
Year-round sunshine and warmth illuminate a city rich in outdoor adventures, unique cultural experiences, and top-performing schools. Sarasota falls under one of the most sought-after school districts in the state, giving you access to 61 different schools, of which GreatSchools.com awarded many a perfect "10/10" rating.
6. Highlands Ranch, CO
A patchwork of parks, golf courses and fully equipped recreation centers, Highlands Ranch is proof that the grass is sometimes greener on the other side. Student's at the area's high schools score three points higher on average on the ACT than the rest of the state.
7. Keller, TX
This suburb of Dallas-Fort Worth is a sleeper hit for fresh families looking for a leg-up in a tough economy. Not only are crime rates low, but the city boasts a 94% graduation rate, reports SmartAsset.com.
8. St. John, IN
Just a hop, skip and jump from Chicago, this sanctuary in Lake County maintains a rural feel without sacrificing big city luxuries. In 2013, Bloomberg ranked the city one of the best places in the U.S. to raise kids, celebrating the area's large investments in parks and outdoor spaces.
With some of the lowest crime rates in the country – the city is safer than 89% of cities in the U.S. – you, and your children will able to take advantage of St. John's outdoor escapes with the peace of mind that you are safe and secure.
9. Berkley, MI
With its world-famous car shows and abundance of restored muscle rides, you might think Berkley is just for motorheads. But the city, situated near Detroit, doesn't just run on fumes.
In a survey of the area's residents, Time.com reported that 90% would recommend its school district to families. Bonus: You'll pay 27% less for housing in Berkley than the national average, according to Payscale.com.
10. Richmond, VA
Home to eight Fortune 500 companies, Richmond is the powerhouse of Virginia's strong economy. The thriving job market pays dividends for residents, with the median family income increasing by more than 25% over a 15-year period.
And your paycheck will go further than most places in the U.S. According to Payscale.com, the cost of living in Richmond is 5% lower than the national average.
But paying less doesn't mean getting less. You'll still have access to top public schools, plenty of pristine outdoor spaces, and some of the best restaurants in the state.