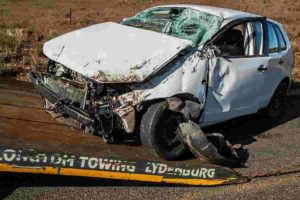 The heartland of America's steel manufacturing industry, Pennsylvania's authorities rule the roads with an iron hand. If you're caught driving without car insurance, you could find yourself staring down the barrel of fines and license suspensions.
While driving without insurance in Pennsylvania won't affect your criminal record, it's still an unnecessary blemish on your permanent driving record. By law, all motorists making use of state roads must purchase an auto insurance policy that meets the state's mandated minimum liability limits.
This policy mirrors that of most other states, though the specific limits can vary. In PA, drivers are required to carry coverage that meets the following minimum limits:
$15,000 to cover bodily injuries to one person;
$30,000 to cover total bodily injuries per accident;
$5,000 to cover property damage; and
$5,000 in medical benefits per collision.
This is considered a basic policy as it provides only enough coverage to pay for the bare minimum damage and injuries sustained in a crash. Unfortunately, these limits are not sufficient to protect you from financial loss in the event of a major wreck. For this reason, many drivers choose to purchase addons to their basic policy to safeguard their financial security.
In this blog we'll discuss:
Penalties for driving without auto insurance in Pennsylvania
Civil penalty option
Statement of Non-Operation of Vehicle
Tort and No-Fault States
High-risk driver categories
Uninsured motorist protection
Auto insurance deductibles
Filing a claim in Pennsylvania
When you make use of Pennsylvania's roads, authorities can request that you show proof that you are insured. If you are unable to do so or you do not carry insurance up to the state's minimum limits, you could be subjected to the following penalties:
Penalties for Driving Without Auto Insurance in Pennsylvania
If you cannot provide authorities with proof of an active insurance policy – such as the Declarations Page of your coverage – you can expect to face a fine of $300. There are no added penalties for being caught a second, third, or subsequent time. Additionally, your driver's license and vehicle registration will be suspended for three months. Even worse, you will have to fork out an additional $176 to restore your vehicle registration and reinstate your driving privileges. Plus, in some cases, your vehicle may even be impounded.
Unlike most other states, Pennsylvania doesn't have SR-22 filing requirements (unless you are moving here from another state). While this might provide some relief, it leaves you with no clear way to expedite your suspension and return to the road. Fortunately, the state offers the option of making a civil penalty payment to restore your vehicle's registration.
What Is the Civil Penalty Option?
While you may be barred from driving for three months after a Driving Without Insurance violation, your family and friends might still need to use your vehicle. Under Pennsylvania's vehicle code, you can pay a $500 civil penalty to prevent your car's registration from being frozen. Plus, you will pay an additional $88 in reinstatement fees. This enables you to transfer your registration and circumvent the three-month suspension that would otherwise have put your car out of commission for the full 90 days. However, you will still have to wait out the three-month license suspension period before you are able to drive again.
Take note: You can only opt to pay the civil penalty once every 12 months. If you're caught driving without insurance again during that time, there's no way to reinstate your vehicle's registration before the suspension period has ended.
What Is a Statement of Non-Operation of Vehicle?
While PA's watertight traffic code leaves little wiggle room for errant motorists to dodge the strict penalties of driving without insurance, there's one way to avoid registration and license suspensions. If the lapse in your coverage was for a period of less than one month and you can prove that you did not drive your car during this time, there's a small chance the Department will waive your penalties. Obviously, this avenue is a cul-de-sac for motorists caught while driving, but if you received a notice that your coverage has lapsed, you can file an MV-221 form to avoid paying reinstatement and restoration fees.
Is Pennsylvania a "Tort" or "No Fault" State?
Each state is either a "tort" or "no fault" state. In "tort" states, the driver who was to blame for the accident taking place is responsible for compensating other parties for the property damage and injuries they sustained. For example, if a driver is speeding in the wrong lane and collides with oncoming traffic, he or she is now liable for the medical bills and repair costs of the not-at-fault individuals.
However, fault is rarely a clear-cut equation. Claims adjusters often divide responsibility among several drivers, assigning a percentage of fault to each. For example, if the adjuster determines you were 25% responsible for causing the accident, you may have to cover 25% of your damages out of your own pocket.
In "no fault" states, motorists are compensated for injuries and other damages sustained in a crash by their own providers regardless of who was to blame for the accident.
Pennsylvania is an outlier as motorists can opt for either full or limited tort insurance. Choosing limited tort locks you into the state's no-fault system. As mentioned above, this type of coverage enables you to file a claim with your own insurer and seek compensation for injuries sustained in a crash regardless of whether you were to blame or not. However, if you purchase limited tort insurance, you cannot file a lawsuit to seek additional compensation unless you were involved in a crash with a driver who was under the influence, lacked auto insurance, or was from another state. As a result, once you've depleted your coverage's limits, you may need to dip into your health insurance or savings to cover the rest of the expenses. In PA, limited tort insurance is cheaper than full tort coverage.
Opting for full tort insurance gives you carte blanche to sue other parties involved in a crash to recover the costs of treating injuries or repairing damage you sustained. While this type of insurance is more expensive, it may safeguard you from severe financial loss in the event of an accident with an at-fault driver.
What Is a High-Risk Driver?
Drivers identified as "high risk" have a statistically higher likelihood of being involved in a crash than the average motorist. As a result, they are far riskier to insure. If you were convicted of driving under the influence, causing a serious accident, or committing numerous minor traffic violations in a short period of time, you could be placed in this category. If you are classed as a high-risk driver, you can expect to pay a steep premium for even just a basic policy.
However, you may be able to reduce your rates by avoiding accidents for a few years. Many insurers also offer discounts to motorists who drive less than the average drivers, attend and complete safety driving course, obtain degrees, work in low-risk occupations, and who drive vehicles fitted with advanced safety features. You may also be able to reduce your premium by dropping unnecessary features from your policy.
What Is Uninsured Motorist Protection?
Pennsylvania has one of the lowest rates of uninsured motorists in the United States, with just over 7% of all drivers in the state risking fines and other penalties by driving without insurance. However, that still leaves you with around a 1 in 14 chance of being involved in a crash with a driver who does not have adequate coverage.
By law, providers are required to offer Uninsured Motorist Coverage to anyone purchasing a policy for their car. However, you can opt out of investing in this addon by signing what is known as a Rejection of Uninsured Motorist Protection waiver. Take note: If you do not complete this form when buying coverage, this feature is included automatically as part of your policy.
In Pennsylvania, this coverage does not apply to any damage your property sustains in an accident with an at-fault uninsured motorist. Instead, it covers medical costs for injuries sustained by you or your passengers caused by the accident. If you opt to purchase uninsured motorist coverage, our Geeks recommend matching your liability coverage to ensure you are covered up to the same amount.
Due to the low financial risks for providers offering this coverage, this feature is relatively affordable when compared to most other addons.
What Is an Auto Insurance Deductible?
In the event of an accident, a deductible is the amount you will have to pay out of pocket to cover damages as a result of the collision before your policy features kick in. In layman's terms, a high deductible will reduce your rates but will leave you financially exposed after a car accident. A low deductible will cost you more every year or month but will safeguard you against severe financial loss.
How Do I File an Insurance Claim in Pennsylvania?
Not sure what to do after a crash? Below is a quick guide overview of the steps you should take after a car accident:
1. Call Emergency Services
Even minor accidents can cause major injuries that take years to heal completely. But calling emergency services in the aftermath of an accident not only will ensure everyone involved receives prompt medical treatment, but it will also mean police will arrive to clear the scene and compile a detailed accident report.
This report will be the backbone of your claim, potentially helping you prove fault and avoid a liability dispute. Police will secure the crash site, collect statements from the parties involved, and document evidence at the scene.
2. Get Info
You should always take down the personal details of any motorists involved in the accident including their names, phone numbers, insurance information, personal addresses, and plate numbers. Don't forget to take down the contact details of anyone who may have the witnessed the crash take place, as well.
3. Build Your Case
Using your phone or a camera, you should snap pictures of any property damage and/or injuries you or anyone else sustained in the accident. Our Geeks recommend taking time to grab additional photographs of any road markings, signs, weather conditions, or other factors that may help you prove fault when filing your claim.
4. Seek Treatment
The impact forces in a crash can wreak havoc on your body, causing injuries that can take many years to heal. Even a low-speed crash can lead to slipped discs, spinal fractures, and severe sprains. Your doctor can assess your condition and determine whether you need medical treatment. Obtaining an accurate assessment of your injuries and future treatment early on not only will ensure you can get back on your feet as soon as possible, but it will also allow you to provide your insurer with a detailed breakdown of all costs involved healing your injuries. It will also prove that you have taken the necessary steps to mitigate your damages.
5. File Your Claim
Many motorists drag their heels following a collision, but waiting too long could cause the insurance company to deny your claim. As soon as possible, you should call your insurer to find out what documentation you will need to complete in order start the claims process. In addition to any requested forms, you should include evidence you collected from the crash site – such as photographs of property damage and witness statements – as well as your doctor's medical report.